Notary Work and Types
OBSN handles basic notary work, providing Acknowledgements and Jurats for documents. We work with individuals and companies to get their documents notarized.
Acknowledgements
are forms which are used to verify the identity of the signer. That is all that is verified by the notary and it's done by reviewing the signers ID, which needs to be a government issued ID with a picture. Common IDs are driver licenses, passport books or passport cards. Other IDs can be used.
Jurats
are forms which are used to a) verify the signer's identity as well as b) put the signer under oath to swear or affirm the validity of the information in the document.
Do I need an Acknowledgement or a Jurat? How do I decide?

Clients can tell which form is needed by the wording on the notary's portion of the document that the notary is to notarize.
It is up to the client to tell the notary which kind of form is needed.  THE NOTARY CANNOT DECIDE.
Examples of each type of wording on the document is pictured below:
Acknowledgement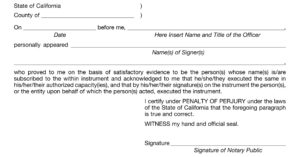 Jurat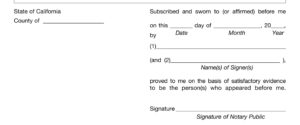 Area of Coverage
Oak Business Services and Notary covers the San Luis Obispo County and the northern part of Santa Barbara County. Cities include: San Miguel, Paso Robles, Cambria, Atasacdero, Santa Margarita, Cayucos, Morro Bay, Los Osos, San Luis Obispo, Avila Beach, Pismo Beach, Arroyo Grande, Grover Beach, Oceano, Halcyon, Nipomo, Santa Maria, Orcutt, and Guadalupe (and all outlying areas).